Chevrolet Cruze Repair Manual: Installation Procedure
Remove all mounds or loose pieces of urethane adhesive from the pinch-weld area.
Inspect for any of the following problems in order to help prevent future breakage of the window:
High weld
Solder spots
Hardened sealer
Any other obstruction or irregularity in the pinch-weld flange
After repairing the opening as indicated, perform the following steps:
Remove all traces of broken glass from the outer cowl panel, seats, floor, and defroster ducts.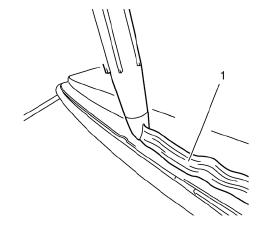 Apply adhesive bead (1).
Cut into the tip of the cartridge in such a way that a bead of adhesive approx. 13 mm (0.511 in) thick is produced.
Insert windshield.
Place the windshield on the roof frames and lower down.
Insert windshield with BO-641 holder .
Secure windshield in position with fabric tape.
Second mechanic required.
Clean any excess urethane adhesive from the body.
Use a soft spray of warm water in order to immediately water test the window.
Inspect the window for leaks.
If any leaks are found, use a plastic paddle in order to apply extra urethane adhesive at the leak point.
Retest the window for leaks.
Maintain the following conditions in order to properly cure the urethane adhesive:
Partially lower a door window in order to prevent pressure buildups when closing doors before the urethane adhesive cures.
Do not drive the vehicle until the urethane adhesive is cured. Refer to the above curing times.
Do not use compressed air in order to dry the urethane adhesive.
Install the roof rail front right and left.
Install inside rearview mirror. Refer to Inside Rearview Mirror Replacement.
Install windshield garnish molding. Refer to Windshield Garnish Molding Replacement.
Install air inlet grille panel. Refer to Air Inlet Grille Panel Replacement.
Connect battery.