Chevrolet Cruze Repair Manual: Rear Axle Bushing Replacement
Special Tools
CH 6616 Hydraulic Hand Pump
CH 6615-10 Hydraulic Cylinder
CH-48377-1 Chisel
CH-49233 Adapter
CH 906-42 Adapter
For equivalent regional tools. Refer to Special Tools
Removal Procedure
Warning: Use of eye goggles is necessary to prevent personal injury.
Remove the rear axle. Refer to Rear Axle Replacement
With the aid of second mechanic, place rear axle onto work bench.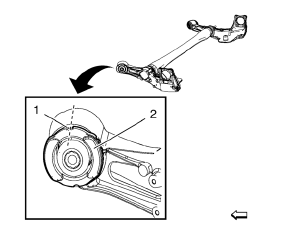 Mark installation position (dashed line) for rear axle bushing (2) on rear axle using a permanent marker.
Use upper gap (1) of bushing for alignment.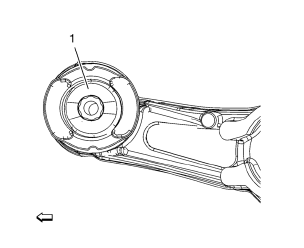 Drill 8 times all around through rubber (1) bushings with drill 10 mm (0.4 in)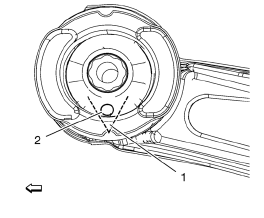 Jigsaw carefully a V-cut (dashed line) into lower side (1) of rear axle bushing. Use lowest bore (2) to insert saw.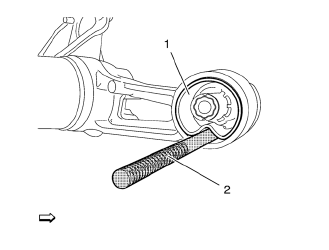 Remove bushing (1), using CH-48377-1 chisel (2) and a hammer. Insert CH-48377-1 chisel on place of V-cut.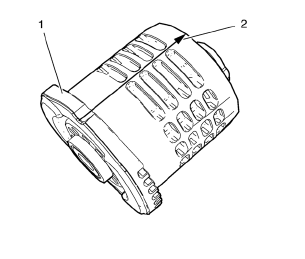 Mark installation position (2) of NEW rear axle bushing (1) as shown in graphic above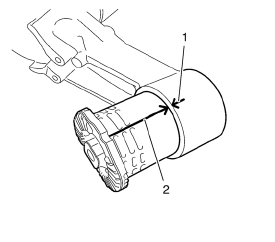 Align bushing marking (2) to rear axle marking (1).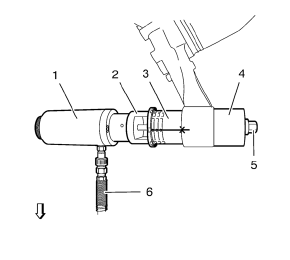 Install the following components onto rear axle bushing and rear axle:
CH 6615-10 cylinder (1).
CH-49233 adapter (2).
NEW rear axle bushing (3).
CH 906-42 adapter (4)
Install and tighten counter nut (5) onto spindle of CH 6615-10 cylinder (1)
Connect pressure hose (6) of CH 6616 pump to CH 6615-10 cylinder
Press carefully the rear axle bushing in to rear axle, using CH 6616 pump .
When lift way of CH 6615-10 cylinder reaches stop, release pressure on CH 6616 pump , retighten counter nut (5) and press rear axle bushing in to rear axle until final installation position.
Remove ALL special tools.
Install rear axle. Refer to Rear Axle Replacement