Chevrolet Cruze Repair Manual: Tail Lamp Replacement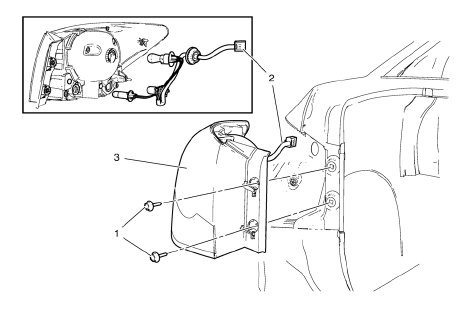 Preliminary Procedures
Open and support the rear compartment lid.
Remove the body side trim panel replacement in order to expose the tail lamp pocket nuts. Refer to Body Side Trim Panel Replacement - Left Side.
Tail Lamp Bolt (Qty: 2)
Caution: Refer to Fastener Caution in the Preface section.
Tighten 2.5 N·m (22 lb ft)
Tail Lamp Control Module with Bulb Assembly
Tip
Rotate the control module with bulbs counterclockwise and remove from the tail lamp housing.
Tail Lamp Assembly
Warning: Refer to Halogen Bulb Warning in the Preface section.
Procedure
Using a blunt tool, tap gently on the tail lamp studs before attempting to remove the tail lamp assembly from the lamp pocket.
Pull the tail lamp assembly rearward.
Disconnect the tail lamp control module with bulbs assembly electrical connector.
Tail Lamp Bulb Replacement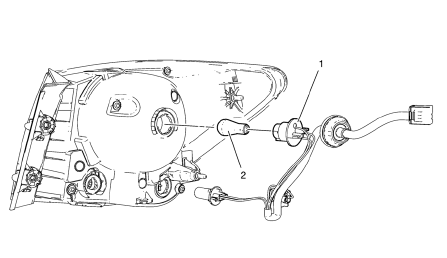 Preliminary Procedure
Remove the rear tail lamp assembly. Refer to Tail Lamp Replacement.
Tail Lamp Bulb Harness Socket
Procedure
Rotate the bulb socket from the tail lamp housing.
Tail Lamp Bulb
Procedure
Pull the bulb straight from the lamp harness socket